Environmental Sustainability at Air University
INTRODUCTION
Air University is fully committed to environmental sustainability. This is in compliance to the 'Clean, Green National Environmental Policy, and the Prime Minister's directive of making a 'Clean and Green' Pakistan. In line with above direction, the Air University is incorporating a culture of environmentally conscious community.
Primarily Directorate Admin and Development is responsible for sustainability along with all other departments at Air University which is fully geared towards implementing sustainable practices in the light of UI Green Metric Guidelines including energy and water conservation, recycling, waste-reduction practices, and more. For this purpose, sustainability as a thought, is widely focused towards students, faculty, and staff as a means to enhancing and fostering environmental sensitive practices in the campus.
GOALS
Establishing and sustaining a nationally renowned 'Green Office' at Air University campus in line with environmentally conscious universities around the world

Our curriculum includes subjects related to sustainability which cover all the aspects of UI Green Metric Guidelines.

Educating and creating awareness on the importance of natural, clean and green environment

Engaging the wider community of management, staff, faculty, students, parents, and AU societies in activities to strengthen Air University's emphatic position on sustainability practices.

Recognizing and rewarding individuals, departments and faculties in sustainability programs and environmental friendly practices.

Reducing Air University's operational costs with creative, smart and green practices.

Conserving water, reducing energy cost, and minimizing waste at the campus.

Air University intend to acquire WWF Certification in future.
SUSTAINABILITY INITIATIVES AT AIR UNIVERSITY
Running campus sustainability campaigns

Hiring a professional horticulturalist

Developing Green Policy Handbook

Initiating solar energy system

Planning events to enhance sustainability at the campus, e.g., Recycling Contest, Go Green
Recycling Contest
Air University has always taken initiatives to foster creativity among students. In connection with generating 'out-of-box' ideas, the Directorate of Admin and Development and Shahoor Society proposed the idea of Recycling Competition in Students' Week on a yearly basis. The purpose of this event is to bring students at one platform in making creative and usable products out of used material. In the event, participants shall be given one hour time to make products from recyclable raw material and showcase to the event management. The winners of the events will be awarded with cash prizes.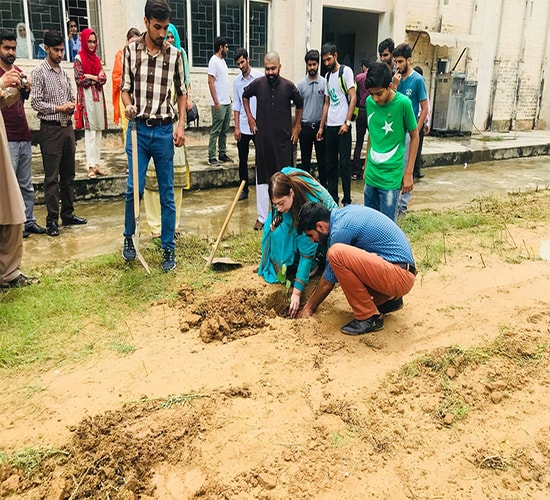 GET IN TOUCH
Director, Quality Enhancement Cell
Admin Block, Air University, E-9, Islamabad.
Email: aw_motla@mail.au.edu.pk
Contact: +92-51-9507852